ALL NEW MENU - complete with breakfast menu for weekends and public holidays. The menu is available in the bar, restaurant and beer garden Monday to Friday from 12pm to 3pm and again from 6pm to 9pm. It is also available weekends and public holidays from 12pm straight through to 9pm.
For lunch we have a great deal. From Monday to Friday you get 30% off the cost of your meal! This means you can afford try out all the delicious new meals on our menu for less! (Please note that this offer is not available on public holidays.)
Breakfast is also available on weekends and public holidays from 8am to 3pm.
For an enhanced dining experience, try our rather intimate restaurant. The restaurant holds 32 people over 8 tables like your mum used to have. It's quaint, kitschy and full of delicious food that's not usually found at your local pub. So come on in and give it a go. Perfect for those somewhat special occasions.
Meal Deals & Dining Specials
Monday – Friday 12pm - 3pm only
$10 Schnitzels and $13 Parmys
Weekday Lunch Special
Feeling like a great value lunch while you're at work?
Come down for a $10 Chicken or Beef Schnitzel with chips and salad and your choice of sauce! Or make it a parmigiana for only $13! Now that's a bargain!
Conditions apply. Not available with any other offer. May not be available on public holidays. See staff for details.
Available Saturdays Sundays and Public Holidays from 8am to 3pm.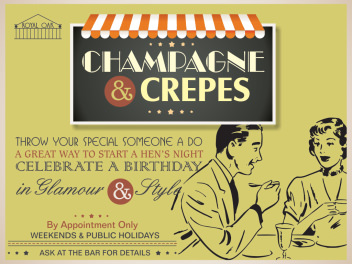 Champagne & Crepes
Champagne for my friends. It's French and totally fabulous!
So here is the deal, grab your friends, this works best in groups of four (but we can tailor things to help you)… you get :
A Bottle of Duperray French Champagne and Four crepes per person.
So basically that's 16 crepes and bottle of French Champagne for just $90.00!
That's only $22.50 each!
Wow, what a breakfast! Bookings ONLY please.
Crepe flavours served are a combination of:
Lemon and sugar
Maple syrup and ice cream
Brandy flamed strawberries with vanilla cream
Pan fried bananas with crème patisserie
It's the perfect way to start your day, perhaps with your friends for your birthday, or a friends birthday, or a hens show, or any special occasion really!
Bookings are essential, and must be made within the availability time frame. Conditions apply.
Every day for lunch and dinner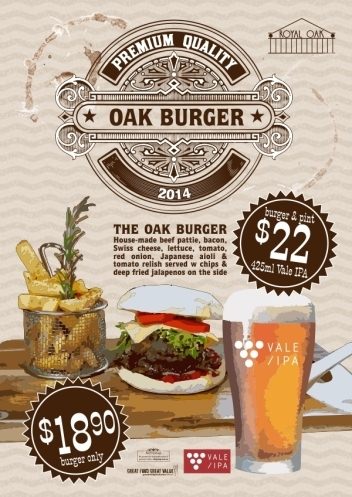 Oak Burger with 425ml pint of McLaren Vale IPA
Grab yourself a burger and pint deal at the Oak.
Amazing! Our delicious Oak Burger with a delicious 425ml pint of McLaren Vale IPA all for the delicious price of $22. You can't go wrong!
Must be in one purchase. Conditions apply.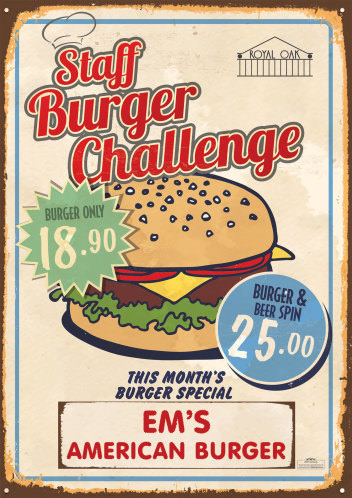 Staff Burger Competition
A different one for you to try each month!
Each month a different team member here at the Oak will be designing a burger for you to try!
Can be in a burger beer deal:
$22.00 with a pint of McLaren Vale IPA
$25.00 for a spin on the Beer of Fortune wheel (destiny picks your delicious craft beer stubby for you)
This month - Chucky's Ducky Burger
Pan fried duck breast, beetroot, rocket, feta, spanish onion and rasberry aioli served with sweet potato fries.
I'll book you a table then right?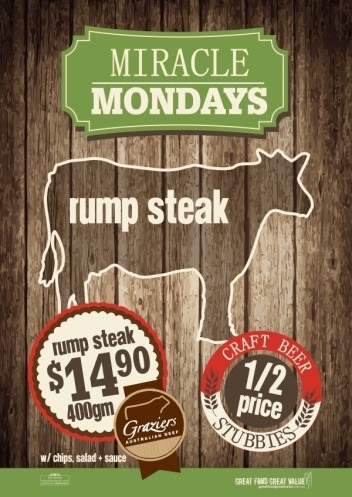 Monday Steak Night
$400g Rump for $14.90
Everyone loves a great Steak deal! How about our 400g Rump, chips and salad with choice of sauce for $14.90.
Mondays can't get any better, especially with our ½ priced craft stubbies!
Conditions apply. Not available with any other offer. May not be available on public holidays. See staff for details.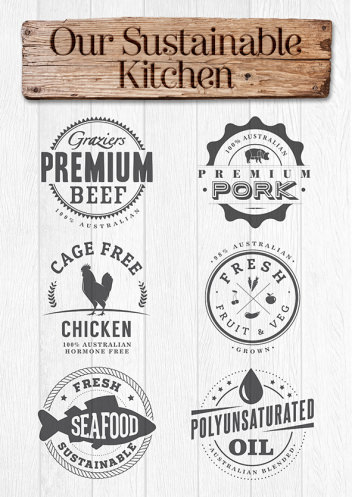 Our Sustainable Kitchen
Looking to the future with Sustainable Kitchen Practices
As part of the Australian food industry, we have a responsibility to our customers, suppliers, and staff to provide the best quality ingredients to our kitchens, whilst also having the environment, animal welfare and ethical farming practices as an equally important priority.
As such we have made a commitment to serve:
100% Australian beef which is fresh and chilled, never frozen
100% Australian chicken, hormone and antibiotic free, fresh and from cage-free farms
100% Australian fresh seafood from sustainable fish stocks
Sow Stall free pork that is also hormone and antibiotic free
98% Australian grown fresh fruit and vegetables to help reduce transportation emissions and without the need to be frozen
We are passionate about our food and we care about how it gets to your plate. We know the steps we take will only improve the quality of food that we bring to the table.